29.11.2017 - Fachartikel - Messen / Events
Reinforcing retAIl: Date for prudsys personalization summit 2018 has been fixed
prudsys AG as a leading provider of real-time personalization invites to the prudsys personalization summit: on June 26 and 27, 2018. nhow Berlin will set the scene for powerful omni-channel personalization through Artificial Intelligence (AI)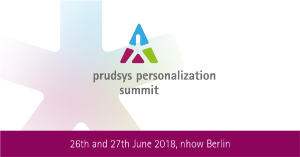 (Initiative Mittelstand)
The prudsys personalization summit on June 26-27, 2018 at the nhow Hotel Berlin provides a platform for approximately 200 retailers and industry experts to give practical presentations and exchange information about the latest developments for a successful personalization strategy. Numerous well-known retail companies will present their best practical examples of personalized customer approaches, highlighting the potential of artificial intelligence (AI) in the age of digital transformation. The focus here is firmly on the customer and customer needs, whether online, on the go or in retail stores. The "Personalization Award" will be given to a company selected by the expert panel to recognize an outstanding project implemented in the field of personalization. Some of the winners in recent years include 1-2-3.tv, bonprix, KLiNGEL Group and Thalia.

In addition to a complete conference program for a successful personalized customer approach both in e-commerce and at point-of-sale, participants can look forward to a panel discussion, in-depth workshops and an interactive showroom featuring examples of practical applications. The focus once again this year will be also on the best solutions of the preceding "DATA MINING CUP 2018". Every year, hundreds of student teams take part in the challenge of solving a problem in the field of intelligent data analysis.

The prudsys personalization summit at a glance:

• When: Tuesday and Wednesday, June 26-27, 2018
• Where: nhow Berlin

More information and video review can be found at summit.prudsys.de.
www.prudsys.de