05.02.2016 - Fachartikel - Hardware
SPB209 accelerate™ Wi-Fi/Bluetooth Combi module ideally suited for industrial, medical and smart home applications
MSC Technologies, a business unit of Avnet, Inc. (NYSE: AVT), is presenting the SPB209...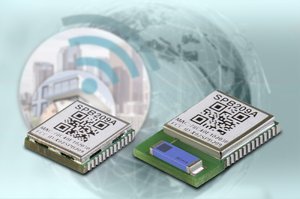 (Initiative Mittelstand)
MSC Technologies, a business unit of Avnet, Inc. (NYSE: AVT), is presenting the SPB209 accelerate wireless module from H&D Wireless at its Booth 240 in Hall 2 at embedded world 2016, February 23-25, in Nuremberg, Germany.
H&D Wireless from Sweden is a real Wi-Fi specialist and developed the SPB209 with dimensions of only 14 mm x 14 mm x 2.5 mm being one of the smallest modules combining WLAN 802.11a/b/ g/n/ac, Bluetooth 4.2 Smart Ready™ (means Bluetooth Classic and Bluetooth Smart™) as well as NFC on a single module with an excellent performance. The module is designed for both simultaneous and independent operation of the different technologies. Ideally fitting to Industrial applications it is supporting of course an operating temperature range from -40°C to +85°C and longevity is guaranteed.
The module can be easily connected to a host controller via a 4 or 8 bit SDIO interface. In addition to a Bluetooth interface, an UART and a PCM interface is available for Bluetooth operation. Audio applications benefit from the integrated pulse code modulation (PCM). Also interfaces like I2C and GPIO's are available. Through the 1x1 antenna configuration, PHY data transfer rates up to 433 Mbps and transfer rates up to 3 Mbps via Bluetooth are feasible. A slightly bigger variant module (19mm x 14mm x 2.5 mm) is also carrying a ceramic antenna.
With an output power up to +18 dBm in 802.11b mode and 15 dBm in 802.11a/g/n mode or more than +8 dBm with Bluetooth operation the wireless interfaces are also especially powerful. Coexistence functions are supported for BT and WLAN as well as ISM and LTE coexistence. During Wi-Fi transmit mode the module is consuming depending on the mode between 320 mA and 489 mA, which is an excellent value for a module combining so many technologies. In deep sleep mode the current consumption is extremely low with 160 µA only.
The module is supporting LDOs for RF-VCO and a crystal oscillator for lower pushing of the crystal oscillator. Additionally, an internal 32 kHz oscillator which maintains real time in power save mode and allows the high frequency clock to be turned off.
The possibility of 64-bit or 128-bit AES hardware encryption and integrated security mechanisms such as 64/128-bit WEP, WPA, WPA2 ensure a high level of data security. Also features like WPS are supported. In addition to WLAN station mode, a WLAN μAccess Point with support for up to 10 clients and Bluetooth is implemented in the firmware. The new data transmission standard Wi Fi Direct is also already supported by the system. Today a Linux driver is offered for software support, but other platforms will be supported soon, like Android, Windows, WinEC7 and others.
Of course, the SPB209 accelerate™ wireless module is radio type approved for Europe (CE), the United States (FCC) and Industry Canada (IC).
Please visit MSC Technologies at embedded world 2016 in Hall 2, Booth 240.
http://www.msc-technologies.eu/home.html