06.11.2023 - Fachartikel - Auto / Verkehr
8000+ KM PER CAR THROUGH SOUTHERN AND EASTERN AFRICA IS BEHIND US!
Tales from our latest African highlands adventure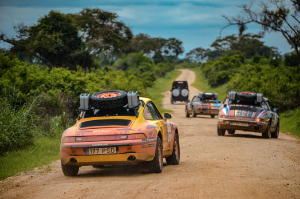 (Initiative Mittelstand)
The Kalmar Beyond Adventure wrap up
We did it! We finished successfully two rounds of our Beyond Adventure African Highlands through amazing Rwanda and Uganda in our specially safari-prepared Kalmar Porsche fleet of air-cooled Safari 911s and Cayennes! We ticked off the mountain gorillas, all of the 'big 5' and many more, we ticked off tackling epic African roads in wet and dry and we ticked off two once-in-a-lifetime driving experiences for happy adventurers from Germany, Switzerland, US, Denmark, Singapore, Taiwan and Spain. This was the 2023 African Highlands – Kalmar Beyond Adventure style.

Have a look at the gallery that showcases what the drivers participated in during the journey. And a few selected ones you find below:
Where do we begin? Maybe even before the beginning… To get the cars to the starting point of the 2 adventures in Rwanda they needed to be transported first up from South Africa. As transportation options are very limited in this part of the world, we decided to drive them up! A 9-day pre-tour drive began, driving into Botswana, then Zambia and Tanzania to reach Rwanda. A long stretch – with the pre-tour mileage in addition to two actual adventures, each vehicle travelled over 8000 kilometres in the last weeks. Not just any kilometres – this involved dirt, gravel, mud – you name it.Everyone has different highlights – but here we go with a selection…

The cars – the driving … of course the focus – but we cannot emphasize how amazing the cars performed. Whatever conditions we threw at them they handled it. 8000 kilometers is a long way on conventional roads – convert that into a path including so much varying terrain, from smooth tarmac to rough and rocky backroads, and sometimes no roads at all. – that's impressive. It was a test close to the limits of the cars, but they all made it in one piece and more than met the task.
The wildlife and scenery – we all hoped for our favorites and the 'big 5' up close – and no one was disappointed. Gorillas, elephants, lions, leopards, hippos, giraffes, monkeys, rhinos– and many more. The scenery we experienced from behind the wheel was incredible: a stunning drive along impressive volcanoes, rice fields, tea plantations, wildlife national parks, tropical rain forests, past lakes, villages, and endless lush hills and mountains. Please check out the full gallery – seeing the proximity of the beautiful creatures to the Kalmar cars is something very special.
The people – what a welcome and the attention we received was mind-blowing. We dare to say that we go to places normally not visited by these types of cars. And most of the people we encountered have never seen these cars and we only got positive feedback from everyone. We turned heads for sure and saw many smiles and waving hands - but we also made local friends and learned about their culture.
The two 10-day adventures were filled with challenges, laughter, and shared values, experiences never to be repeated and collected unforgettable memories of a lifetime and created lasting friendships. We traveled in two extraordinary countries that are far from holiday resorts and package tours. We challenged ourselves, our adventurers, and above all our cars.
Now the cars are packed into containers and on the way back to base in Europe for checks and upgrades before the 2024 season begins and more AFRICA is waiting!
But first, let's go ice driving in January. Beginning of the new year we will head far north to the Arctic Circle to Rovaniemi, Finland to start out 2024 with our exceptional Spirit of Speed Arctic ice-driving programs...

Ready to go sideways in an air-cooled Porsche? Come and join us!
OUR FLEET
Extraordinary driving adventures demand extraordinary vehicles perfectly suited for the challenges.

Porsche 911 (964/993) KALMAR RS
Re-engineered well-proven Porsche 964/993 so they can be used in adventurous environments normally not visited. Rally prepared, special wheels, roll cages, underbody protection, lifted rally shock absorbers etc.


Porsche Cayenne KALMAR CS
Made for adventure and delivering off-road performance beyond your expectations and simply tailored for challenges for epic overland driving! Full underbody and front protection, mud-terrain tires, light weight reduction etc.
DISCOVER MORE BEYOND ADVENTURES:
SPIRIT OF SPEED ARCTIC
6 waves in January 2024
A thrilling combination of real ice and rally tracks becomes the ideal playground to challenge yourself and "your" rally prepared air-cooled Porsche on WRC tires. Why not experience the real deal, where you can to push the cars to their limits?
Read more >

MOROCCO
April 8 - 15, 2024 - Sold out
April 17 - 24, 2024
April 27 - May 4, 2024

Morocco is a place of spectacular natural scenery full of epic mountain ranges and deserts! Let Beyond Adventure take you into areas you could not imagine you would reach - from the highest Saharan dunes to the peaks of the High Atlas.
Read more >

BHUTAN
October 2024
A spiritual Drive in the Himalayas - Discover the country using backroads to untouched villages while enjoying the most beautiful sights. Let yourself be surprised and expect the unexpected.
Read more >
STAY TUNED FOR MORE BEYOND ADVENTURES TO COME!
www.jankalmar.com