21.08.2023 - Fachartikel - Auto / Verkehr
Ultimate Namibia:
Explore Namibia on one of the greatest safari driving adventures the world has to offer!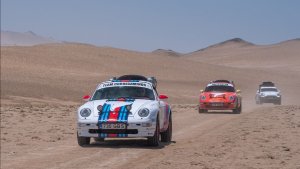 (Initiative Mittelstand)
Namibia is waiting - a mystifying land of such mind-blowing beauty and diversity, rugged, eerily isolated, and home to wonderful wildlife! The best way to discover Namibia is from behind the wheel of a 4x4, but with KALMAR Beyond Adventure we don't just take any 4x4, we take our KALMAR fleet of specially safari prepared air-cooled Porsche 911s and Cayennes on an adventure of a lifetime.
Prepare for one of the greatest safari driving adventures the world has to offer - a mix of unforgettable sights, prime wildlife safaris, diverse African culture and challenging driving experiences through this timeless land of deserts, majestic sand dunes, coastal areas and unpopulated places with wide-open spaces in between. Close your eyes and all you can hear is the wind passing over the sand dunes. The country is, after all, one of the most sparsely populated independent countries on earth.
Set off on a 10-day driving journey from July 27 until August 5, 2024, through Namibia and explore some of the most impressive sights: the iconic dunes of Sossusvlei and the world's oldest desert, the Namib Desert. The Skeleton Coast with its rugged shoreline. Damaraland and its fascinating rock formations and desert-adapted wildlife cannot be missed before the encounter with rare wildlife at Etosha National Park - the variety and sheer number of animals is outstanding and a truly fascinating destination waiting to be explored in a safari style like no other. Be prepared to see elephants, giraffes, rhinos, lions, springbok and zebras and so much more through the windscreen of your safari-ready Porsche.
Yes, with Beyond Adventure we start where others stop and create driving adventures far from ordinary. A combination of incredible landscapes and routes, abundant wildlife, intensive driving across every terrain, along seemingly endless gravel roads, and through deserts - all in classic rally style. All is spiced up with unforgettable overnight stays under the clear African sky, amazing cuisine, and other-worldly sensations.
Each day will bring so many new surprises, exceptional views, and memories of a lifetime.It is nearly impossible to describe everything here – you simply have to experience it yourself.

JOIN BEYOND ADVENTURE NAMIBIA

July 27 - August 5, 2024
OUR FLEET
Extraordinary driving adventures demand extraordinary vehicles perfectly suited for the challenges.

Porsche 911 (964/993) KALMAR RS
Re-engineered well-proven Porsche 964/993 so they can be used in adventurous environments normally not visited. Rally prepared, special wheels, roll cages, underbody protection, lifted rally shock absorbers etc.


Porsche Cayenne KALMAR CS
Made for adventure and delivering off-road performance beyond your expectations and simply tailored for challenges for epic overland driving! Full underbody and front protection, mud-terrain tires, light weight reduction etc.

DISCOVER MORE BEYOND ADVENTURES:

AFRICAN HIGHLANDS
September 23rd - October 2nd , 2023
Welcome to the highlands of Africa - the home of mountain gorillas, volcanoes, lakes, and never-ending savannahs. This continent has a lot to offer!
Read more >

BHUTAN
November 10 – 17, 2023
A spiritual Drive in the Himalayas - Discover the country using backroads to untouched villages while enjoying the most beautiful sights. Let yourself be surprised and expect the unexpected.
Read more >

SPIRIT OF SPEED ARCTIC
6 waves in January 2024
A thrilling combination of real ice and rally tracks becomes the ideal playground to challenge yourself and "your" rally prepared air-cooled Porsche on WRC tires. Why not experience the real deal, where you can to push the cars to their limits?
Read more >

MOROCCO
April 8 - 15, 2024 - Sold out
April 17 - 24, 2024
April 27 - May 4, 2024

Morocco is a place of spectacular natural scenery full of epic mountain ranges and deserts! Let Beyond Adventure take you into areas you could not imagine you would reach - from the highest Saharan dunes to the peaks of the High Atlas.
Read more >
STAY TUNED FOR MORE BEYOND ADVENTURES TO COME!
www.jankalmar.com