24.04.2023 - Fachartikel - Reise / Touristik
Incredible Rwanda & Uganda from behind the steering wheel of a Safari-ready Porsche!
Gorillas & African Savannah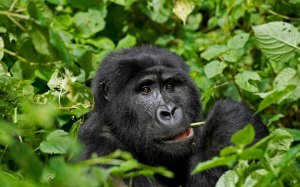 (Initiative Mittelstand)
What stops you from getting into a classic Safari-prepared Porsche 911 or Porsche Cayenne to self-drive 10 days through the African Highlands?

An experience of a lifetime is waiting – secure yourself one of the last seats on an unforgettable African driving adventure through Rwanda's and Uganda's major National Parks! Coupling classic African savannah settings for up-close wildlife encounters of the 'Big 5' with iconic rainforest trekking for the ultimate reward: time spent with the majestic mountain gorillas and chimpanzees!
Rwanda & Uganda have the world's most extensive gorilla trekking available and a sighting is almost guaranteed. Mountain gorillas are wild animals and are moving continuously through the rainforest. Be prepared for an active morning hike and changing weather conditions with no warning. Once sighted, you are allowed to spend one precious hour with the gorillas. Visiting these enigmatic and beautiful creatures in their natural habitat is an out-of-this-world and unforgettable experience! Revel in the privilege of witnessing these interactions, so similar to our own ways.

Watch why the African Highlands adventure and getting up close with mountain gorillas is a life-changing experience creating memories that will last forever:
Mountain gorillas are rebounding from the brink of extinction but threats still remain that include human encroachment, climate change and even poaching. With KALMAR Beyond Adventure African Highlands visit the Ellen DeGeneres Campus of the Dian Fossey Gorilla Fund that has been established to ensure that conservation efforts continue from generation to generation:
We make the "impossible" possible and offer what most only dare to dream about. A one-of-a-kind opportunity to self-drive in the heart of Africa, at your own pace, but always have the support team close-by. This is all possible with our Classic rally style using our specially created and well-proven navigation concept. All Beyond Adventure style!
Look forward to driving along endless and simply amazing red gravel-paved roads through marvelous landscapes with rolling mountains, volcanos, lakes, rivers and never-ending savannas. And don't expect to be only driving in remoteness - you will meet many smiling locals dressed colorful and complementing the real African experience.
After long days of driving and exploring, let your mind and body recharge at hand-selected top-class and memorable lodges. Prefer tree-top-skimming luxury villas secluded in the heart of the jungle? Or do you favor it even wilder, on a small island in the middle of the mighty River Nile?
An exceptional journey is waiting that will truly amaze you.
Secure yourself one of the last spots!

JOIN THE BEYOND ADVENTURE AFRICAN HIGHLANDS

From September 23 – October 2, 2023
OUR FLEET
Extraordinary driving adventures demand extraordinary vehicles
perfectly suited for the challenges.
Porsche 911 (964/993) KALMAR RS
Re-engineered well-proven Porsche 964/993 so they can be used in adventurous environments normally not visited. Rally prepared, special wheels, roll cages, underbody protection, lifted rally shock absorbers etc.

Porsche Cayenne KALMAR CS
Made for adventure and delivering off-road performance beyond your expectations and simply tailored for challenges for epic overland driving! Full underbody and front protection, mud-terrain tires, light weight reduction etc.
DISCOVER MORE
BEYOND ADVENTURES:
BHUTAN
(10th November – 17th November, 2023)

A spiritual Drive in the Himalayas - Discover the country using backroads to untouched villages while enjoying the most beautiful sights. Let yourself be surprised and expect the unexpected.

Read more >

MOROCCO
(8th April – 15th April, 2024)

Morocco is a place of spectacular natural scenery full of epic mountain ranges and desert! Let Beyond Adventure take you into areas you could not imagine you would reach - from highest Saharan dunes to the peaks of High Atlas.

Read more >
STAY TUNED FOR MORE BEYOND ADVENTURES TO COME!
www.jankalmar.com