17.04.2023 - Fachartikel - Reise / Touristik
Follow Beyond Adventure into magical Morocco from Marrakech to Merzouga
- the gateway to the desert and beyond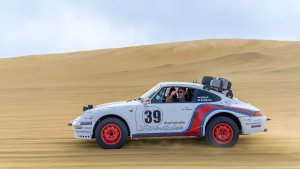 (Initiative Mittelstand)
Beyond Adventure Morocco takes you on an unforgettable 8-day adventure from April 8th – 15th, 2024! Versatile and full of intrigue, Morocco offers the perfect destination for your next driving adventure in our KALMAR Adventure fleet of specially desert-ready air-cooled Porsche 911 or modified Cayenne!
Your Adventure kicks off in mesmerizing Marrakech, not short of stunning places to stay and your home of the first night: The Selman Marrakech is set in its own expanse and open spaces providing a sanctuary to prepare you for the upcoming driving adventure!
After getting accustomed to the Arabian buzz it is time to start the engines and discover this mysterious country from behind the steering wheel. Start out and get off the beaten track and discover the lesser-known side to Morocco as you venture on stunning roads towards the High Atlas Mountains with snow-capped peaks, into lush palm-fringed valleys until you reach the sweeping sand dunes of the Sahara Desert. It is the perfect combination of exciting routes with a diverse mix of tarmac, endless gravel and sand.
There is a lot to explore on 4 wheels in Morocco. Look forward to discovering this magical country in our Classic Rally style. You will drive and navigate independently throughout most of the days. Of course, the support team is always close by and one thing is for sure, a real driving challenge and driving fun is waiting.
After days full of excitement and spectacular impressions the 1001 nights adventure will be complemented to the fullest while staying in hand-selected authentic accommodations and Riads and memorable desert camps. Lifetime memories are guaranteed.
JOIN US ON THIS ARABIAN BEYOND ADVENTURE IN AMAZING MOROCCO!
from 08th April - 15th April, 2024
OUR FLEET
Extraordinary driving adventures demand extraordinary vehicles
perfectly suited for the challenges ahead.
KALMAR RS
Re-engineered for use in challenging environments, these iconic manual sports cars offer abundant heritage feel and are backed up with modern safety systems. Weight reduction, improved handling, a roll cage, air conditioning, sports seats and strengthened underbody protection ensure participants can confidently push the limits of what they think is possible on a driving adventure.
 
KALMAR CS
The specialist KALMAR CS SUVs are built for unsurpassed off-road performance and thrilling overland driving. Full underbody and front protection, mud-terrain tyres and lifted suspension all contribute here, while a luxurious interior that includes a fridge makes traversing challenging terrain unexpectedly comfortable.
 
DISCOVER MORE
BEYOND ADVENTURES:
AFRICAN HIGHLANDS
(23rd September - 2nd October, 2023)

Welcome to the highlands of Africa - the home of mountain gorillas, volcanoes, lakes and never-ending savannahs. This continent has a lot to offer! 

Read more > 

BHUTAN
(10th November – 17th November, 2023)

A spiritual Drive in the Himalayas - Discover the country using backroads to untouched villages while enjoying the most beautiful sights. Let yourself be surprised and expect the unexpected. 

Read more >
STAY TUNED FOR MORE BEYOND ADVENTURES TO COME!
www.jankalmar.com