03.04.2023 - Fachartikel - Reise / Touristik
8 DAYS OF AWE AND WONDER ARE WAITING IN BHUTAN!
Discover one of the most peaceful and remote corners of Asia, and of the world!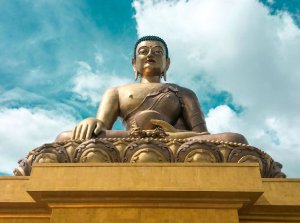 (Initiative Mittelstand)
Beyond Adventure Bhutan - Climb the world from November 10th – 17th, 2023 – and join our spiritual self-drive adventure in breath-taking nature mixed with incredible Buddhist culture, remote temples, fortress monasteries and topped with luxurious hideaways and service – all in the shadow of the Himalayas and some of the highest mountains in the world.
When arriving in Bhutan it brings the reality of how remote this destination is and sets the tone for the entire adventure. The landing strip at Paro Airport is one of the 10 hardest places to land in the world!
The secrets of Bhutan are well-hidden due to the limited number of visitors allowed to enter the country and its relative geographical isolation. Discover the country without a single traffic light from behind the steering wheel and become a member of a small group of people who drive themselves in Bhutan! Explore backroads to untouched villages, reaching heights close to 4,000m while enjoying the most beautiful sights of the Himalayan range.
Let yourself be surprised by the colorful Himalayan Kingdom with its verdant valleys, elegant dzongs and cliff-hugging monasteries and expect the unexpected. Experience this hidden gem away from modernity while driving yourself in a local off-roading 4x4 SUV. The overall driving distance for this Beyond Adventure with only 500 km is unusual short in distance as we take it slow with plenty of time to become one with culture and nature around us.
Bhutan offers some of the most amazing award-winning lodges and luckily, we have hand-picked some of them! After days full of spectacular sights and impressions rest up along the way and enjoy unforgettable hideaways and formidable Bhutanese cuisine at uniquely designed lodges set in intimate locations offering the perfect blend of luxury, calmness, and relaxation!

Get inspired: Sixsenses - Aman - Gangtey Lodge
The pure source of inspiration is waiting! The ideal destination for both the curious and the adventurous!

Join our spiritual Beyond Adventure Bhutan
from November 10 – 17. 2023
DISCOVER MORE BEYOND ADVENTURES TO COME:
AFRICAN HIGHLANDS
(23rd September - 2nd October, 2023)

Welcome to the highlands of Africa - the home of the mountain gorillas, volcanoes, lakes and never-ending savannahs. This continent has a lot to offer!

Read more >
MOROCCO
(08th April - 15th April, 2024)

Morocco is a place of spectacular natural scenery full of epic mountain ranges and deserts! Let Beyond Adventure take you into areas you could not imagine you would reach - from the highest Saharan dunes to the peaks of High Atlas.

Read more >
STAY TUNED FOR MORE BEYOND ADVENTURES TO COME!
www.jankalmar.com