27.03.2023 - Fachartikel - Reise / Touristik
Go where the crowds don't, explore what others won't!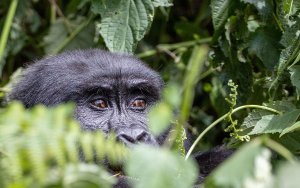 (Initiative Mittelstand)
Our next stop: 10 days African Highlands. An adventurous getaway and entirely different Safari experience with the right touch of luxury and off the tourist trail but safe and well organized. One of the only places where you can see the gentle but impressive primates in their natural habitat. But that is not all… A once-in-a-lifetime experience at its best is waiting.

Start out the 2.000 km journey in Kigali, Rwanda. Kigali is a kaleidoscope of colors and a vibrant city, warm and welcoming! It will blow you away how clean it is. You will not spot any litter… It will surely change your views just like it changed ours when we first arrived here.

The real driving adventure begins as we head into nature towards Nyungwe National Park - One of the oldest rainforests in Africa, Nyungwe is rich in biodiversity and spectacularly beautiful. Step into a rich tropical forest and for the first time on this journey and see chimpanzees and other types of chimps in the wild!
By now we got used to these astonishing African gravel and winding tarmac roads as we navigate further North via Lake Kivu and the Volcanoes National Park in the Virunga Mountains. One of the most panoramic sights of Rwanda before we cross over to Uganda. Spend time tracking the mountain gorillas through the misty bamboo forest for an experience that is an extremely special privilege and an unforgettable and magical encounter.
Keep steering your Safari-ready Porsche towards the famous Queen Elizabeth National Park with its stunning landscapes and extraordinary animal life. Few reserves in the world can compete with this wide selection of scenic views including savannah, bushland, wetlands and lush forests. This park is Uganda's premier game viewing destination and the famous tree-climbing lions are its undisputed wildlife stars but you can also expect to see elephants, hippos, giraffes, crocodiles, buffaloes and plenty of antelope species – all through the windshield of your Porsche!
Still did not get enough of the primates? Crossing Uganda also means passing Kibale National Park - one of the best safari destinations in Africa for chimpanzee tracking. Thirteen species can be sought, and a good variety of monkeys can be encountered, but the stars are undoubtfully the chimpanzees.

Gravel roads and the scenic routes continue, and the mighty Nile River is calling close to the Murchison Falls National Park. Take a bit time to slow down at the shores of the Victoria Nile before it is time to get back into the cars for an entirely wild experience. Enjoy the wildlife, start counting, but do not expect to finish fast. The 'BIG 5' should be ticked off before you leave this park.
Luxurious Lodges - Rwanda & Uganda offer some world-class accommodation along the route. KALMAR Beyond Adventure has selected only the best lodges mixing luxurious comfort with charming and unparalleled panoramas of natural beauty. After long days of driving and exploring simply the perfect hideaways to recharge your body and mind.
In addition, an expert team with expedition lead, mechanics, paramedic, local guide takes care of everything from the arrival airport until departure. You will truly be amazed by an unforgettable expedition. The Beyond Adventure way - perfectly combined driving adventure, excitement and relaxation which lets you fully enjoy this awe-inspiring African continent.
Join us from September 23rd – October 2nd, 2023 from Kigali, Rwanda to Entebbe, Uganda
and secure yourself one of the last seats!
OUR FLEET
Extraordinary driving adventures demand extraordinary vehicles
perfectly suited for the challenges.
Porsche 911 (964/993) KALMAR RS
Re-engineered well-proven Porsche 964/993 so they can be used in adventurous environments normally not visited. Rally prepared, special wheels, roll cages, underbody protection, lifted rally shock absorbers etc.

Porsche Cayenne KALMAR CS
Made for adventure and delivering off-road performance beyond your expectations and simply tailored for challenges for epic overland driving! Full underbody and front protection, mud-terrain tires, light weight reduction etc.
DISCOVER MORE
BEYOND ADVENTURES:
BHUTAN
(10th November – 17th November, 2023)

A spiritual Drive in the Himalayas - Discover the country using backroads to untouched villages while enjoying the most beautiful sights. Let yourself be surprised and expect the unexpected.

Read more >

MOROCCO
(8th April – 15th April, 2024)

Morocco is a place of spectacular natural scenery full of epic mountain ranges and desert! Let Beyond Adventure take you into areas you could not imagine you would reach - from highest Saharan dunes to the peaks of High Atlas.

Read more >
STAY TUNED FOR MORE BEYOND ADVENTURES TO COME!
www.jankalmar.com