13.03.2023 - Fachartikel - Reise / Touristik
Discover Rwanda & Uganda in a Safari-ready Porsche
The wild spirit of driving is waiting!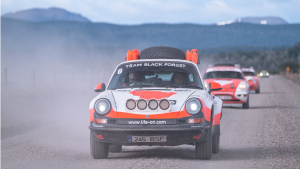 (Initiative Mittelstand)
Prepare for a one-of-a-kind opportunity and drive a Safari-prepared Porsche in the heart of Africa, through Rwanda and Uganda. Beyond Adventure African Highlands welcomes you to the home of the mountain gorillas, with Rwanda and Uganda's fantastic African gravel roads, stunning landscapes, endangered wildlife and top-tier accommodation sure to leave lasting memories.
From September 23 – October 2, 2023, it is not only the routes and bucket-list components of this experience that are epic, but this adventure also takes place in the Safari-ready KALMAR RS and KALMAR CS cars – vehicles that are not usually seen in this part of the world, and certainly not as part of a self-driving experience. Unlike others, KALMAR Adventure Line cars are capable of far-reaching adventures and have been purpose-built for your wildest automotive exploration journey.
With these vehicles, you'll navigate through majestic landscapes with volcanic mountains, lush jungles, tea plantations, never-ending savannahs, lakes and the famous Nile River. From vast plains teeming with game to colorful and vibrant local villages, this diverse continent is magnificent in its extremes. Here it's all about epic wildlife, magical landscapes and the fascinating people who bring it all alive. Rwanda and Uganda are incredibly special and expect views that go far beyond the imagination.
Lands of contrasts and diversity, the natural features of Rwanda and Uganda continue to draw visitors in. A great place for nature-loving travelers, you can also spend time tracking the gorillas through the misty bamboo forest of the Virunga volcanic mountains for an experience that is an extremely special privilege and an unforgettable encounter.
With amazing mountain gorillas, some truly spectacular wildlife encounters, and dramatic mountain views, KALMAR Beyond Adventure also ensures that the best accommodation is available throughout the trip. After long days of driving and exploring, the perfect hideaways to relax are the top-class and memorable lodges and escapes that have been selected to let your mind and body recharge. For Beyond Adventure, the best is the only option.
Prefer tree-top-skimming luxury villas secluded in the heart of the jungle? Or do you favor it even wilder, on a small island in the middle of the mighty River Nile?

Then look no further and take some
inspiration from the overnight possibilities that await:

Clouds Mountain Gorilla Lodge · Nile Safari Lodge
Lemala Wildwater Lodge · One & Only Resorts – Nyungwe House

Secure yourself one of the last spots!

JOIN THE BEYOND ADVENTURE AFRICAN HIGHLANDS

From September 23 – October 2, 2023
OUR FLEET
Extraordinary driving adventures demand extraordinary vehicles
perfectly suited for the challenges.
Porsche 911 (964/993) KALMAR RS
Re-engineered well-proven Porsche 964/993 so they can be used in adventurous environments normally not visited. Rally prepared, special wheels, roll cages, underbody protection, lifted rally shock absorbers etc.

Porsche Cayenne KALMAR CS
Made for adventure and delivering off-road performance beyond your expectations and simply tailored for challenges for epic overland driving! Full underbody and front protection, mud-terrain tires, light weight reduction etc.
DISCOVER MORE
BEYOND ADVENTURES:

BHUTAN
(10th November – 17th November, 2023)

A spiritual Drive in the Himalayas - Discover the country using backroads to untouched villages while enjoying the most beautiful sights. Let yourself be surprised and expect the unexpected.

Read more >

MOROCCO
(8th April – 15th April, 2024)

Morocco is a place of spectacular natural scenery full of epic mountain ranges and desert! Let Beyond Adventure take you into areas you could not imagine you would reach - from highest Saharan dunes to the peaks of High Atlas.

Read more >
www.jankalmar.com