07.03.2023 - Fachartikel - Reise / Touristik
GOING BEYOND INTO THE HIDDEN GEMS OF MAROCCO
Your extreme driving adventure awaits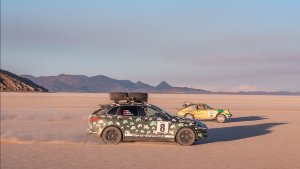 (Initiative Mittelstand)
An overland journey through a raw and varied landscape of undulating desert dunes, soaring mountains and vibrant cities awaits you in 2024.
 
Beyond Adventure Extreme Morocco – Join Beyond Adventure on this remarkable adventure through the delights of Morocco, bringing together the sights and sounds of this fantastic North African destination. Taking place from 08th - 15th April, 2024, this is your chance to discover more than the well-trodden paths of the country, all from behind the wheel of the tailormade KALMAR fleet of specially-prepared, adventure-ready Porsches.
Starting (and ending) the adventure in Marrakech, exploring the bustling souks and twisted alleys of the city, the breath-taking scenic beauty of the Atlas Mountains follow, packed with all the magical charm that makes Morocco so mesmerizing. There you'll be able to explore the mountain roads and enjoy the magnificent views of snow-capped peaks and lush valleys. You'll be relaxed in the knowledge that your dedicated Beyond Adventure team has chosen the perfect combination of challenging routes with a diverse mix of tarmac, endless gravel, and sand, all based on countless hours of research and experience.
Seeing all that Morocco has to offer, during this Moroccan trip you'll be driving a specially prepared Porsche engineered by the leading team at KALMAR Automotive. Built for adventure and capable of delivering supreme on- and off-road performance, the wilderness of the Sahara Desert is waiting to be discovered in your own KALMAR RS 911 or KALMAR CS Cayenne - navigating ambitious and demanding dunes by day and watching the sunset over the golden sand under the magical sky by night.
Constantly striving to push the boundaries of what it means to embark upon a driving adventure, KALMAR Beyond Adventure will challenge both you, the driver, and the car, all while offering the ultimate in respite and relaxation. With specially selected accommodation and memorable desert camps available along the route, this Arabian Nights adventure is the perfect place to start the engines for an incredible Classic Rally-style experience.
The ultimate adventure to Morocco; an utterly spell-binding journey through the Atlas Mountains and the Sahara desert that is guaranteed to be unforgettable.
 
JOIN THE BEYOND ADVENTURE EXTREME MOROCCO from 08th April - 15th April, 2024
OUR FLEET
Extraordinary driving adventures demand extraordinary vehicles perfectly suited for the challenges ahead.
KALMAR RS
Re-engineered for use in challenging environments, these iconic manual sports cars offer abundant heritage feel and are backed up with modern safety systems. Weight reduction, improved handling, a roll cage, air conditioning, sports seats and strengthened underbody protection ensure participants can confidently push the limits of what they think is possible on a driving adventure.
 
KALMAR CS
The specialist KALMAR CS SUVs are built for unsurpassed off-road performance and thrilling overland driving. Full underbody and front protection, mud-terrain tyres and lifted suspension all contribute here, while a luxurious interior that includes a fridge makes traversing challenging terrain unexpectedly comfortable.
 
DISCOVER MORE BEYOND ADVENTURES:
AFRICAN HIGHLANDS
(23rd September - 2nd October, 2023)

Welcome to the highlands of Africa - the home of mountain gorillas, volcanoes, lakes and never-ending savannahs. This continent has a lot to offer! 

Read more > 

BHUTAN
(10th November – 17th November, 2023)

A spiritual Drive in the Himalayas - Discover the country using backroads to untouched villages while enjoying the most beautiful sights. Let yourself be surprised and expect the unexpected. 

Read more >
STAY TUNED FOR MORE BEYOND ADVENTURES TO COME!
www.jankalmar.com