28.02.2023 - Fachartikel - Reise / Touristik
THE KINGDOM OF BHUTAN
Unveil the gem of the Himalayas from behind the steering wheel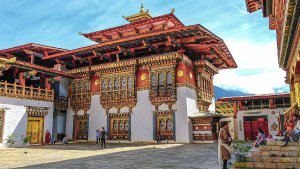 (Initiative Mittelstand)
Ready to go where others stop? Experience a magical self-drive adventure in a quest to find peace, tranquility and discover the beautiful landscape of the largely untouched, ancient Buddhist kingdom!

Join our spiritual Beyond Adventure Bhutan
from November 10th to 17th, 2023

The secrets of Bhutan are well-hidden due to the limited number of visitors allowed to enter the country and its relative geographical isolation. This journey will change your way of thinking, relax you to a calming pace of life and show you an area on Earth that remains largely untouched by tourists.
Discover the country without a single traffic light from behind the steering wheel and become a member of a small group of people who drive themselves in Bhutan! Explore backroads to untouched villages, reaching heights close to 4,000m while enjoying the most beautiful sights of the Himalayan range.
Let yourself be surprised by the colorful Himalayan Kingdom with its verdant valleys, elegant dzongs and cliff-hugging monasteries and expect the unexpected. Experience this hidden gem away from modernity while driving yourself in a local 4x4 SUV.
The breathtaking views seen from the car are just a part of the package. You will rest and recharge your body and mind in hand-selected, award-winning lodges, located in stunning valleys, amongst opalescent rivers, unspoiled greenery, and outstanding mountains.
The inclusive atmosphere, delicious cuisine, balance, and mysticism – is there more to desire?

DON'T MISS OUT ON THOSE MEMORIES OF A LIFETIME!
DISCOVER MORE
BEYOND ADVENTURES TO COME:

AFRICAN HIGHLANDS
(23rd September - 2nd October, 2023)

Welcome to the highlands of Africa - the home of the mountain gorillas, volcanoes, lakes and never-ending savannahs. This continent has a lot to offer!

Read more >
MOROCCO
(April 2024)

Morocco is a place of spectacular natural scenery full of epic mountain ranges and desert! Let Beyond Adventure take you into areas you could not imagine you would reach - from highest Saharan dunes to the peaks of High Atlas.

Read more >
STAY TUNED FOR MORE BEYOND ADVENTURES TO COME!
www.jankalmar.com