12.12.2022 - Fachartikel - Reise / Touristik
39 EPIC DAYS
TALES FROM THE TRANS-ANDES SOUTH AMERICA ADVENTURE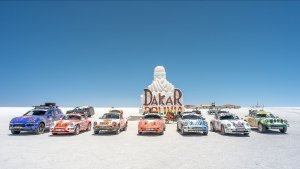 (Initiative Mittelstand)
THE KALMAR BEYOND ADVENTURE WRAP UP
It's a wrap! It has been a rough ride however we have reached the 'END OF THE WORLD' and successfully mastered our epic Beyond Adventure Trans-Andes Rally 2022.

The essence of years of hard work came to life! What an adventure and so far from the ordinary. 16 explorers from all over the world, the KALMAR team and cars have arrived safely and all in one piece. What a story we all have to tell…
Our specially-prepared KALMAR Automotive fleet of air-cooled Safari 911s and Cayennes were pushed to the limit and showed their amazing capabilities. Well, besides our beloved and record-breaking Zebra Cayenne that was all the sudden confiscated by the authorities and put in lock up – but we finally managed to get it back. Those guys are definitely not on Jan's Christmas card list!
It wasn't easy and it surely took us, the drivers and cars to the to the edge of what is possible. But nothing in life worth having is ever easy, is it? When you're joined by friends, an amazing team of explorers with a passion for Porsche and travelling, then it's a real Beyond Adventure…
We look back to an incredible 40 day trip behind the steering wheel of pure excitement, 11,000+ km, crossing some of the hardest terrains on the planet, driving through most magnificent places, along unexpected routes and spectacular nature landscapes until finally reaching the 'END OF THE WORLD'. A stunning mix of highlights upon highlights hard to describe.

For us, the ultimate challenge came to life and we have collected unforgettable memories of a lifetime, created lasting friendships, co-operated as a team and succeeded as one!
There are too many tales to mention, so for now we thought we'd leave you with some opinions from the worldwide press of what we achieved and a live blog from the entire trip by one of our amazing teams – the team Black Forest and Life-On!

Top Gear Magazine said: "The brilliant images are from the latest adventure, where a group of Kalmar-modified air-cooled 911s and second-generation Cayennes took on the Trans-Andes Rally."

PistonHeads said: "Expect plenty more big trips from Kalmar Beyond Adventure given the evident success of this one, as well as a few more build commissions and rental requests as well. Cool though a Dakar looks, it doesn't quite seem tough enough to take this on. We'll take an RS-R like the orange and white car here, please, complete with 4.1-litres, 400 hp, carbon bodywork and a radiator in the ducktail to prevent it from off-road damage - perfect."

Motor1 said: "Several examples from Kalmar Automotive demonstrated their capability by completing an arduous 11,000-kilometre (6,835-mile) journey across the South American continent."
Yes, it took us a few days to recover but we are full of energy again and look forward to what's to come in 2023.

Initially, we planned on keeping the cars in South America and we know some of you have been looking forward to more South American Adventures to come but we have decided it is time to move on to the next continent for 2023!

The cars are packed into containers and about to leave the port in South America.
AFRICA is waiting! Besides some exciting plans we will share later on – how about joining a driving adventure in the heart of Africa in September 2023?

The Beyond Adventure African Highlands trip offers an entirely new spin on an African adventure and safari and it never ceases to amaze. Spend ten days exploring remarkable Rwanda and Uganda on this self-drive Safari adventure.

One of the most rewarding and exclusive wildlife experiences is waiting – the encounter with the majestic Mountain Gorillas!

But first beginning of January will head far north to the Arctic Circle to Rovaniemi, Finland to start out 2023 with our exceptional Spirit of Speed Arctic ice-driving programs. At a brand-new location, much larger driving area, revised fleet and private lodge accommodation…

Stay tuned for more to come and see you on the next adventure!
DISCOVER MORE

BEYOND ADVENTURES TO COME:
SPIRIT OF SPEED ARCTIC
(8 waves in January 2023)
An entire NEW program – NEW larger Driving Area, revised car fleet, brand new accommodation! A thrilling combination of real ice and rally tracks becomes the ideal playground to challenge yourself and "your" rally prepared Porsche on WRC tires.

BHUTAN
(26th May – 2nd June, 2023)

A spiritual Drive in the Himalayas - Discover the country using backroads to untouched villages while enjoying the most beautiful sights. Let yourself be surprised and expect the unexpected.

Read more >

ALPS-CROSSING
(July 2023)

Astonishing views, challenging gravel roads, inspiring places and a unique fleet of air-cooled Porsche 911s. The Alps-Crossing you never knew possible! Let Beyond Adventure take you to new heights in the heart of Europe.

Read more >

AFRICAN HIGHLANDS
(23rd September - 2nd October, 2023)

Welcome to the highlands of Africa - the home of the mountain gorillas, volcanoes, lakes and never-ending savannahs. This continent has a lot to offer!

Read more >

MOROCCO
(March 2024)

Morocco is a place of spectacular natural scenery full of epic mountain ranges and desert! Let Beyond Adventure take you into areas you could not imagine you would reach - from highest Saharan dunes to the peaks of High Atlas.

Read more >
www.jankalmar.com