12.09.2022 - Fachartikel - Reise / Touristik
PURE ADRENALINE IN A RALLY PREPARED PORSCHE
with Spirit of Speed Arctic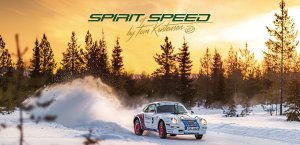 (Initiative Mittelstand)
Lapland, Finland - Have you been dreaming of going sideways on winter rally forest roads in specially rally prepared Porsches at bracing -20°C? Then January 2023 is the time to make those dreams come true! We are looking forward to impressing you!

The name "Spirit of Speed Arctic by Tom Kristensen" is already a story by itself. We never do anything without Spirit and combined with the quality surrounding all what 9-times Le Mans winner Tom Kristensen stands for means you can expect only the best.
Spirit of Speed Arctic is a 4-day winter driving experience of the greatest perfection and not comparable with any other offer you find! The experience includes the perfect combination of our specially rally prepared air- and water-cooled Porsche selection with real World Rally Championship tires you do not find at any standard training! Long action-packed days, thrilling ice rally tracks, individual coaching, top-class chalet accommodation and special team spirit! Be ready to turn up the levels higher than you ever imagined!
We are excited to have a new driving facility with close to impressive 300 km of track sections on lakes, marshland and right in the forest. Rally stages, super stages, rally cross stages with bridges and huge track-bankings are waiting for you!

If this is not already enough spice up the experience and join our Arctic Race program and take part in a real Rally Competition and/or take Tom Kristensen as your personal coach! When did you ever get instruction from Mr. Le Mans himself? Everyone can learn to control a Porsche on the limit while having endless fun.
The icing of the cake: arctic atmosphere, small groups, private transfers, exceptional accommodation in brand new luxury lodge and private chef will allow you to relax in the evenings and exchange your excitement with the fellow drivers.

Explore what Spirit of Speed Arctic is all about and join us at the Arctic Circle in Rovaniemi, Finland in January 2023! A truly one-of-a-kind ice driving experience is waiting.
Wave 1 Arctic Control | 07 - 10 January 2023
Wave 2 Arctic Control | 10 - 13 January 2023
Wave 3 Arctic Race | 13 - 16 January 2023
Wave 4 Arctic Control | 16 - 19 January 2023 - SOLD OUT
Wave 5 Arctic Control | 19 - 22 January 2023 - SOLD OUT
Wave 6 Arctic Race | 22 - 25 January 2023
Wave 7 Arctic Control | 25 - 28 January 2023 - SOLD OUT
Wave 8 Arctic Control | 28 - 31 January 2023 - SOLD OUT
DISCOVER MORE

BEYOND ADVENTURES IN 2023:
PATAGONIA
(March 2023)

A vast region sparsely populated at the southern end of the South American continent with a stunning mixture of endless gravel and tarmac roads surrounded by wild nature, untamed coastlines and a world of finest wine areas.

Read more >

Best of SOUTH AMERICA
(April 2023)

From Santiago de Chile to Lima. The wonders of South America set the stage for incredible endeavours. This vastly under-explored continent was once home to some of the world's oldest civilizations. South America has charm, beauty and elegance unparalleled, and is simply begging to be explored.

Read more >

BHUTAN
(19th - 26th May, 2023)

A spiritual Drive in the Himalayas - Discover the country using backroads to untouched villages while enjoying the most beautiful sights. Let yourself be surprised and expect the unexpected.

Read more >

MOROCCO
(October 2023)

Morocco is a place of spectacular natural scenery full of epic mountain ranges and desert! Let Beyond Adventure take you into areas you could not imagine you would reach - from highest Saharan dunes to the peaks of High Atlas.

Read more >

ALPS-CROSSING
(July 2023)

Astonishing views, challenging gravel roads, inspiring places and a unique fleet of air-cooled Porsche 911s. The Alps-Crossing you never knew possible! Let Beyond Adventure take you to the new heights in the heart of Europe.

Read more >

AFRICAN HIGHLANDS
(23rd September - 2nd October, 2023)

Welcome to the highlands of Africa - the home of the mountain gorillas, volcanoes, lakes and never-ending savannahs. This continent has a lot to offer!

Read more >
www.jankalmar.com