08.08.2022 - Fachartikel - Reise / Touristik
Enjoying summer? But already in the mood for real ice and snow driving action in January 2023?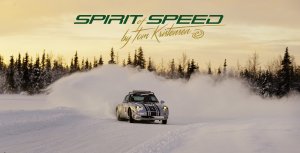 (Initiative Mittelstand)
Yes, it is only August but the very hot temperatures in Europe let us dream of the cold days to come. What is waiting for you: Arctic scenery right at the Arctic Circle combined with thrilling ice driving pleasure on much larger and challenging driving area, revised car fleet and brand new accommodation! Be ready to turn up the levels higher than you ever imagined!

Rovaniemi, Finland - Our new driving facility offers close to an impressive 300km of track sections (compared to 16km in previous years!) on lakes, marshland and right in the forest. You will have rally stages, super stages, rally cross stages with bridges and huge track-bankings only found here and nowhere else on the planet.
The perfect location for our exhilarating 4-day Spirit of Speed Arctic driving action! Don't miss out on long action-packed days, individual coaching, specially rally prepared air- and water-cooled Porsches on real World Rally Championship tires you don't find at any standard training.
As something new you get the chance to push a selection of rally prepared Porsches to the limit. Air-cooled classics and water-cooled young timers all with manual transmission and a welcomed addition of the modern mid-engined sport version of the perfectly balanced Cayman. All cars are equipped with real World Rally Championship tires which is the game-changer only to be found with us.

If this alone is not already enough spice up the experience and join our Arctic Race program and take part in a real Rally Competition and/or take Tom Kristensen as your personal coach! When did you ever get instruction from Mr. Le Mans himself? Everyone can learn to control a Porsche on the limit while having endless fun.
The icing of the cake: small groups, private transfers, exceptional accommodation in luxury lodge and private chef will allow you to relax in the evenings and exchange your excitement with the fellow drivers – simply pure definition of Arctic luxury and comfort.
Seats are filling up – make sure to secure your spot!
Wave 1 Arctic Control | 07 - 10 January 2023
Wave 2 Arctic Control | 10 - 13 January 2023
Wave 3 Arctic Race | 13 - 16 January 2023
Wave 4 Arctic Control | 16 - 19 January 2023 - SOLD OUT
Wave 5 Arctic Control | 19 - 22 January 2023 - SOLD OUT
Wave 6 Arctic Race | 22 - 25 January 2023
Wave 7 Arctic Control | 25 - 28 January 2023 - SOLD OUT
DISCOVER MORE
BEYOND ADVENTURES IN 2023:
BHUTAN
(21st - 28th April, 2023)

A spiritual Drive in the Himalayas - Discover the country using backroads to untouched villages while enjoying the most beautiful sights. Let yourself be surprised and expect the unexpected.

Read more >

MOROCCO
(October 2023)

Morocco is a place of spectacular natural scenery full of epic mountain ranges and desert! Let Beyond Adventure take you into areas you could not imagine you would reach - from highest Saharan dunes to the peaks of High Atlas.

Read more >

ALPS-CROSSING
(July 2023)

Astonishing views, challenging gravel roads, inspiring places and a unique fleet of air-cooled Porsche 911s. The Alps-Crossing you never knew possible! Let Beyond Adventure take you to the new heights in the heart of Europe.

Read more >

AFRICAN HIGHLANDS
(August 2023)

Welcome to the highlands of Africa - the home of the mountain gorillas, volcanoes, lakes and never-ending savannahs. This continent has a lot to offer!

Read more >
www.jankalmar.com