11.10.2021 - Fachartikel - Reise / Touristik
LEARN FROM 9-TIMES LE MANS WINNER TOM KRISTENSEN
HOW TO FLY SIDEWAYS IN AN AIR-COOLED PORSCHE KALMAR RS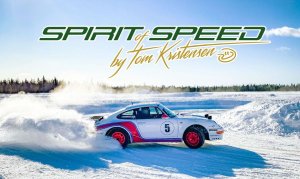 (Initiative Mittelstand)
If you ever dreamed of being coached by the most successful race driver in sports car history then January 2022 is the time to make this dream come true! Join our Spirit of Speed Arctic Program in Levi, Finland! WATCH VIDEO.

The name "Spirit of Speed by Tom Kristensen" is already a story by itself. We never do anything without real Spirit and combined with the quality surrounding all what 9-times Le Mans winner Tom Kristensen stands for means you can expect only the best.
Our Spirit of Speed Arctic program is a unique ice driving experience that reaches far beyond what is offered elsewhere – but the icing of the cake is that you can choose to have the racing legend Tom Kristensen as group instructor or even book him a your private instructor – for a fully individual 2-day session tailor-made just for you!
What is waiting for you:
• Bespoke 4-day program (2 driving days) in our Porsche (964/993) KALMAR RS
with Real World Rally Championship Tires and maximized driving time
• Small groups with max. 8 persons with 1 instructor per car
• Thrilling ice rally tracks and forest winter roads – not just dull and flat lake tracks
• Night-Driving at its best
• Tom Kristensen as group instructor for Arctic Race or optional private instructor
for Arctic Control
• Real Rally Competition with timings, rally rules, and regulations – if you feel like
• Top-class Accommodation in private Luxury Villas and catering with private chef
• Optional Ice Activities e.g. Snowmobiling
Now it is driving time – take up the challenge and shift up a gear. Join us and enjoy an arctic driving thrill you have not experienced before!
SECURE ONE OF THE LAST PLACES!
Arctic Control: January 07-10, 2022
Arctic Control: January 09-12, 2022
Arctic Race: January 11-14, 2022
DISCOVER MORE BEYOND ADVENTURES IN 2022:
LAKE BAIKAL
(03rd - 05th March, 2022)

This exceptional Adventure gives you the opportunity to experience the frozen Lake Baikal, and why not go all the way and do it in a specially prepared classic Porsche 911 KALMAR RS?

Read more >

MOROCCO
(30th March - 06th April, 2022)

Morocco, a place of spectacular natural scenery full of epic mountain ranges and desert! Let Beyond Adventure take you into areas you could not imagine you would reach – from highest Saharan dunes to the peaks of the High Atlas.

Read more >

BHUTAN
(06th - 13th May, 2022)

A spiritual Drive in the Himalayas - Discover the country using backroads to untouched villages while enjoying the most beautiful sights. Let yourself be surprised and expect the unexpected.

Read more >

GEORGIA
(25th May - 02nd June, 2022)

An amazing country at the crossroads of Europe and Asia, where ancient meets modern. Here you find nonstop positive and welcoming hospitality. When adding the breathtaking landscapes and nature not spoiled by humans do make Georgia a must-see destination.

Read more >

DENMARK GOURMET SPECIAL
(19th - 25th June, 2022)

Enjoy world-class food combined with an unusual visit to this fairytale country - home of the phenomena "hygge" - a unique state of mind which according to some can only be experienced here!

Read more >

ALPS-CROSSING
(5th - 11th July, 2022)

Astonishing views, challenging gravel roads, inspiring places and a unique fleet of air-cooled Porsche 911s. The Alps-Crossing you never knew possible! Let Beyond Adventure take you to the new heights in the heart of Europe.

Read more >

AFRICAN HIGHLANDS
(26th August - 05th September, 2022)

Welcome to the highlands of Africa - the home of the mountain gorillas, volcanoes, lakes and never-ending savannahs. This continent has a lot to offer!

Read more >
www.jankalmar.com