31.07.2020 - Fachartikel - Reise / Touristik
Start out the year 2021 with an arctic driving thrill you have not experienced before!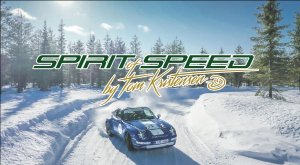 (Initiative Mittelstand)
This upcoming winter offers you far more than expected and new standards are set! Our exhilarating SPIRIT OF SPEED ARCTIC comes to life 200 km north of the Arctic Circle in Levi, Finland! Together with 9-times Le Mans Winner Tom Kristensen we have developed this challenging ice driving experience aiming for high performance and adrenaline but never forgetting the "Spirit of Speed".

What will you expect? Prepare yourself for specially prepared Porsche 911 (964/993) Rally Editions fitted with World Rally Championship tires. A thrilling combination of real ice and rally tracks becomes the ideal playground to challenge yourself and "your" Porsche 911.
We surely don't try to sell you new sportscars but give you the best tailormade 2-day driver training of your life – we will not slow you down and even push you to bring you to the next level almost immediately. Besides Tom Kristensen our skillful Scandinavian race/rally instructors will take intense care of you with a very individual approach and 1 dedicated instructor and mechanic per car and maximum 5 cars in total! And no matter if you are a first-time snow and ice driver or an experienced racer everyone will benefit vastly and individually from our distinctive style of training.

Spirit of Speed Arctic is a unique experience that reaches far beyond what is offered elsewhere. If what we already offer is still not enough, why not take Tom Kristensen as your personal coach or participate in a real Rally! Common for all - learn to control a Porsche 911 on the limit but still having fun.
Our accommodation and service is all but mainstream. After a long day on the track you can enjoy a highest-level overnight stay in the Levi Spirit Villas! Relax together with your fellow drivers while your private chef prepares your delicious local foods – pure definition of Arctic luxury and comfort.
Ready to master an air-cooled Porsche 911 Rally Edition with real World Rally Championship Tires on winter rally forest roads in sideways style?
THEN GET INTO YOUR RACING SEAT:

• Arctic Control: January 11-14, 2021
• Arctic Control: January 13-16, 2021
• Arctic Race: January 15-18, 2021

Despite the "new normal" and still existing limitations when it comes to traveling, I feel certain that the pure remoteness of Northern Lapland is a safe place to visit. In addition, our very small groups of maximum 8-10 persons, individual approach and overnights in our own villas will allow us to keep the needed safety measures as your safety and well-being has our highest priority.

Let's enjoy the remaining summer days and get heated up for an astonishing and ice-cold winter driving experience and I hope to see you join!
ARE YOU DREAMING OF FURTHER
ADVENTURES OF A LIFE-TIME?
LAKE BAIKAL
(12th-18th March, 2021)
Siberia is one of those places that most have heard about and only a few have visited voluntarily. With Beyond Adventure we make it possible to go straight on to the nature highlight of the region, Lake Baikal. We always do things the spectacular way… You get the keys to an air-cooled Porsche 911 fitted with special ice tires and being guided driving on the 2-meter thick crystal clear 31.000 km2 large ice cube! Staying in warm Yurts on the lake! Yes, this is adventure pure!
Read more >
DENMARK GOURMET SPECIAL
(19th-25th June, 2021)
Enjoy world-class food at Noma, Alchemist and Geranium combined with an unusual visit to this fairytale country! We have created the "Denmark Gourmet Special" to attract those of you who see food as more than a necessity to survive. Beyond Adventure is all about exploring the world on passionate and unique driving adventures, in addition to the gourmet experience also experience the hidden beauties of our little kingdom. Denmark is calling you to discover clean air, amazing food and good vibes! Drive your own car, air-cooled Porsche 911s or Porsche Cayennes.
Read more >
ALPS-CROSSING
(16th-21th July, 2021)
We have paired up with Elferspot so that the Alps-Crossing is truly a bucket-list-worth experience you never thought possible! Routes passing the highest mountains in Europe using mostly unknown gravel passages far from the average tourist routes. Challenging roads and endless mountain passes – routes we during the planning trip could hardly believe exist so close to the civilized world right in the heart of industrial Europe. You feel like you just landed on the moon - not what most expect from Europe. We do offer our specially prepared air-cooled Porsche 911s and Porsche Cayennes if more comfort is requested.
Read more >
AFRICAN HIGHLANDS
(29th June–8th July, 2021)
Ready for the close encounter with endangered mountain gorillas? Some describe this experience as spiritual! This is an Adventure for all with a desire to see the real Africa. Get up close with the amazing African wildlife, but as always, we add the "Beyond Adventure magic" to it. Experience the unexpected cleanliness of Rwanda spiced up with the capturing vistas of never-ending tea plantations. Continue to Uganda which surely is more "Africa". That is the ultimate safari - hard ever to top.
Read more >
www.jankalmar.com