29.06.2020 - Fachartikel - Reise / Touristik
DENMARK - GOURMET SPECIAL
Explore your next bucket list destination.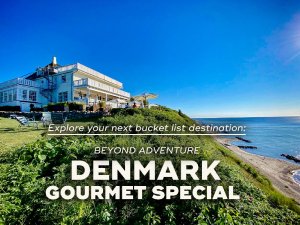 (Initiative Mittelstand)
Outstanding culinary and accommodation experiences combined with amazing roads in our air-cooled Porsche 911s, Cayennes or even your own car!The Corona epidemy has shut down the world and forced us to stay at home. We are all troubled by "the new normal" that has unfolded as discovering the world has for a while become nearly impossible. This global lockdown is likely to accumulate a huge travel desire when the world reopens. Therefore, since Denmark experiences a very low infection rate, we decided to offer an Adventure here in my home country as this is a safe place to visit.

You can only imagine my excitement when I finally last week was able to go on the first location check after more than 6 months of staying home. Please take your time to discover the result - Beyond Adventure Denmark Gourmet Special!
As Beyond Adventure is normally about exploring the world on passionate and unique driving adventures in the middle of nowhere, this Adventure differs quite a bit as it is designed to not only visit some of the world's best restaurants, but also to experience the hidden beauty of our little kingdom. During my location check I "re-discovered" my own country and I am sure it will impress you as well.

Even though Denmark with its only 45.000 km2 is a very tiny country, you will experience the most magnificent backroads here. I set out to avoid all highways and managed! When restaurants like Noma, Geranium and the "new kid on the block" Alchemist are booked then the food of course does not need any further introduction! Like always we do things differently and that you will also feel if you join this Adventure. I won't disclose all, but I can promise you that Beyond Adventure Denmark Gourmet Special will be a "money can't buy experience". This has turned into an epic combination of amazing roads, fantastic hotels, world-class food and like always a hint of automotive madness… for real!
As the world is slowly but surely reopening, I hope to see you join our Beyond Adventures. Let's look ahead and start creating plans how to explore the world in the best possible way. Denmark is calling you to discover clean air, narrow roads, stunning food and good vibes!
Are you ready for your
ADVENTURE OF A LIFE-TIME?
SPIRIT OF SPEED ARCTIC
(11th-18th January, 2021)
We are extremely proud of this new addition to our entire universe! The Spirit of Speed by Tom Kristensen has been concepted to offer the best performance oriented driving experiences on Track, Ice and Sand. Created by Tom Kristensen who with his 9-times overall Le Mans 24H victories is undoubtedly the best sportscar endurance driver the world has ever seen! Only here can you benefit from Tom's wealth of experience! We start out with the winter driving programs which will be followed by track and desert experiences.
> Buckle up and see how - click here.


LAKE BAIKAL
(12th-18th March, 2021)
Siberia is one of those places that most have heard about and only a few have visited voluntarily. With Beyond Adventure we make it possible to go straight on to the nature highlight of the region, Lake Baikal. We always do things the spectacular way! A private shuttle from Irkutsk airport to the camp. Here you get the keys to an air-cooled Porsche 911 fitted with special ice tires. Spend a full day driving on the 2-meter thick crystal clear 31.000 km2 large ice cube! Yes, this is adventure pure!
> See here why - click here.


DENMARK GOURMET SPECIAL
(19th-25th June, 2021)
Enjoy world-class food at Noma, Alchemist and Geranium combined with an unusual visit to this fairytale country! We have created the "Denmark Gourmet Special" to attract those of you who see food as more than a necessity to survive. Beyond Adventure is all about exploring the world on passionate and unique driving adventures, in addition to the gourmet experience also experience the hidden beauties of our little kingdom. Denmark is calling you to discover clean air, amazing food and good vibes! Drive your own car, air-cooled Porsche 911s or Porsche Cayennes.
> Get an appetite - click here.


ALPS-CROSSING
(16th-21th July, 2021)
The Alps-Crossing is truly a bucket-list-worth experience you never thought possible! Routes passing the highest mountains in Europe using mostly unknown passages and not the tourist routes many know. Challenging gravel roads and endless mountain passes – routes we could hardly believe exist so close to the civilized world right in the heart of industrial Europe. Less than 30 km away from major cities you feel like you just landed on the moon - not what most expect from Europe. We do offer our specially prepared air-cooled Porsche 911s and Porsche Cayennes.
> Learn why this Adventure took us by storm - click here.


AFRICAN HIGHLANDS
(29th June–8th July, 2021)
Marvelous landscapes, countless hills and mountains and unique climates. Welcome to the African Highlands – the home of mountain gorillas, volcanoes, lakes and never-ending nature experiences. This is the pearl in the heart of Africa – enjoy the landscapes, the challenges, and, of course, the endangered wildlife up close.
> Click here to find out why.
www.jankalmar.com