05.02.2020 - Fachartikel - Reise / Touristik
A pure source of inspiration - Beyond Adventure Himalaya Bhutan, India, Upper Mustang!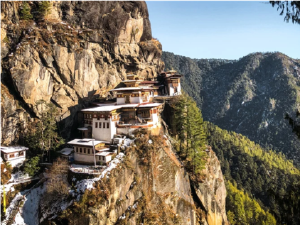 (Initiative Mittelstand)
The world is wide open for all adventurers, but there are places on Earth with limited access. Ready for extraordinary routes along the Himalayan peaks, deep valleys and glaciers in Bhutan, Nepal and India? It is time to prove that the majestic landscape of the highest mountains can be reached by car enthusiasts on amazing driving adventures. Next on the agenda: BHUTAN!

The secrets of Bhutan are well-hidden due to the limited number of visitors allowed to enter the country and its relative geographical isolation. Therefore only a few people know about its beauty. The few who have visited this magical place are astonished by the ancient Buddhist culture with its remote temples and fortress-monasteries in a landscape of incredible nature. We not only have managed to obtain the needed permits but also created an experience that only a few can even dream about.

Discover the country without a single traffic light! Use backroads to untouched villages, reaching heights close to 4,000m while enjoying the most beautiful sights and sounds of the Himalayan range. Let yourself be surprised by the country and expect the unexpected. Experience this hidden gem away from modernity while driving yourself with the specially fitted car.

In addition to our one-of-a-kind driving adventure, we have carefully selected world-class resorts and mixed nature attractions, incredible culture and religious diversity, full relaxation and astonishing landscapes that surely will deliver memories of a lifetime.
Join us from 30th October to 6th November 2020!
8 days (3 driving days) | ~ 400 km

Find out more >
Register interest >


India is a land of diversity and you will explore the varieties of this great country at first hand from "your" car. From the 20-million population mega-city Delhi with its clash of historic and modern culture all the way to the lush forests, vast country land and the highest motorable road in the world!
It will be an unforgettable driving experience with life-long lasting impressions. Encounter historical Indian tribes and witness their pure way of life.

Explore some of India's most prized fauna and flora, journey through ever-changing habitats and enjoy the moments on the automotive top of the world!
Find out more >
Register interest >


Beyond Adventure Upper Mustang is all about exploring stunning valleys, spectacular mountain views and the unique ethnic culture of Nepal. Upper Mustang is vast, arid, and one of the few places left on earth where one might truly escape to an authentic Tibetan enclave.

Get ready for a tough drive, desert landscapes, barren ridges, deep canyons (including the deepest canyon in the world), eroded cliffs and moraine valleys.

Let yourself be astonished by views and steer through specially guarded regions where only a few car tires have left their marks before.

Find out more >
Register interest >
FURTHER BOOKABLE ADVENTURES FOR 2020:

Marcus Grönholm Winter Experience
The real Winter rally experience in a Porsche 911.
Join us in Levi, Finland:
12th to 15th March 2020
15th to 18th March 2020

CLICK HERE FOR DETAILS


Beyond Adventure Georgia
Stunning, warm-hearted, tasty, magical - this is Georgia, that you will get to know with us, far from the picture most of us got from the media. Join from 2nd to 10th September 2020.

CLICK HERE FOR DETAILS


Beyond Adventure African Highlights
From 18th to 27th September 2020, you can join the one-of-a-kind Adventure in Africa. Experience the real jungle, feel the wildlife and see the mountain gorillas face to face.

CLICK HERE FOR DETAILS


Beyond Adventure Central America
Enter a world full of stunning landscapes, challenging routes and exciting terrain on the 20th to 30th November 2020. The spirit of adventure is waiting!

CLICK HERE FOR DETAILS


See all Beyond Adventures >
Feel free to contact us anytime to speak about your individual ideas and wishes. You may reach us on E-mail or call: +48 667 938 320. We are looking forward to answering all your questions.
www.jankalmar.com